News
Updates in the Gallery
25 June 2008
Files section has been updated with a couple of brand-new screenshots of S.T.A.L.K.E.R. prequel demonstrating renewed levels and some gameplay elements.

Press tour feedback
17 June 2008
GSC PR director's trip to USA and Europe resulted in a lot of articles about S.T.A.L.K.E.R.: Clear Sky published at numerous web sites. We are happy to note that you can read journalists' impressions in English, German and French languages. Hope you'll enjoy them!
English
German
French

Zone in US
31 May 2008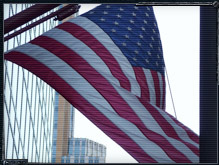 As the release of S.T.A.L.K.E.R.: Clear Sky approaches ever closer, the Zone has suddenly become active and started showing in various points of the globe. Eyewitnesses report anomalous activity on the territory of USA. Special agent of GSC Game World Oleg Yavorsky has been sent to the place of the events, armed with a fresh build of "S.T.A.L.K.E.R.: Clear Sky". He told us about the events upon his return.

April, 26th - Day of Remembrance
26 April 2008
Twenty two years ago in the Soviet Union near Pripyat in Ukraine a man-caused disaster occured at Chernobyl Nuclear Power Plant. This date was taken on special significance not only for the people of Ukraine, Belarus and Russia but for whole world. On this day whole civilized society recalls the events at Chernobyl NPP, recalls the people who unsparingly stood up for a struggle against radiation threat.
Let us honour those people whose destinies were broken by this terrible tragedy, those people who prevented the consequences from becoming much more disastrous for humanity.

Technical video and screenshots
24 April 2008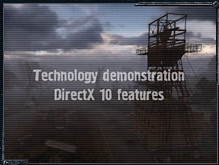 The first official technical video of S.T.A.L.K.E.R.: Clear Sky demonstrating DirectX 10 graphical features of X-Ray 1.5 engine
and also a handful of new screenshots are now available on our web-site.
Click on the Files section to download the trailer in resolution as suitable for you.
Enjoy!

Best game graphics
23 April 2008
Sixth annual game developers conference in Moscow (KRI) is over. According to a long-established tradition, the conference was concluded by KRI Awards, the only professional game-development award in Russian speaking countries. S.T.A.L.K.E.R.: Clear Sky was awarded "Best game graphics".

Release date announced
27 March 2008
GSC Game World, computer games developer, its publishing subdivision GSC World Publishing and Koch Media, a leading marketer of video games, today announced the planned release date for the title S.T.A.L.K.E.R.: Clear Sky. According to the agreed plan, the game will ship August 29, 2008 worldwide. S.T.A.L.K.E.R.: Clear Sky will be published by the games labels Deep Silver and GSC World Publishing.
"The topic of the release date for S.T.A.L.K.E.R.: Clear Sky has created a lot of interest among gamers, press and fans. We're pleased to announce an exact date for this highly anticipated game now," said Dr. Klemens Kundratitz, Managing Director of Koch Media.
"Our intention to deliver the game simultaneously worldwide is both a challenge and big responsibility to the many fans of the game around the globe. We are looking forward to achieve this ambitious goal in August." - said Sergiy Grygorovych, GSC World Publishing CEO.

Two always better than one
4 March 2008

Brand-new screenshots
3 March 2008
A new juicy set of screenshots of S.T.A.L.K.E.R.: Clear Sky is available for viewing in the Files section. Enjoy!

Let's talk A-Life, Emergent AI and S.T.A.L.K.E.R.
26 February 2008
Dmitriy Iassenev, Lead Programmer for S.T.A.L.K.E.R.: Clear Sky gave an exclusive interview on the in-game A-Life, AI development and more to AiGameDev.com.
"The gist of the A-life is that the characters in the game live their own lives and exist all the time, not only when they are in the player's field of view."