News
One more preview of S.T.A.L.K.E.R.: Clear Sky
22 February 2008
Fresh preview of upcoming survival FPS S.T.A.L.K.E.R.: Clear Sky has been posted on hookedgamers.com.
"Clear Sky has already improved so many things from the first game, that I'm excited to see what else has been revamped since then."

More about S.T.A.L.K.E.R.: Clear Sky
21 February 2008
Have a look at some new materials about S.T.A.L.K.E.R.: Clear Sky, posted on gamingtarget.com.
"A-Life, the artificial intelligence system designed by GSC, will actually control much of the faction war. In Shadows of Chernobyl, A-Life controlled the way monsters interacted with one another: when they were hungry, when they were angry, when they needed tor rest."

Happy Valentine's Day
14 February 2008
Cozy, shady parks of Limansk - a wonderful place for romantic meetings. Happy Valentine's Day! Here is a few photos of Limansk as a present.

S.T.A.L.K.E.R.: Clear Sky preview
14 February 2008
New preview of Clear Sky is available now on gamesradar.com.
"Now developer GSC is making a game a little closer to that original dream. Our second journey into the Chernobyl exclusion zone promises great things."
A few new screenshots go with the preview as well.

Publishing Agreement for S.T.A.L.K.E.R.: Clear Sky
31 January 2008
GSC Game World, computer games developer, its publishing subdivision GSC World Publishing and Koch Media, a leading marketer of games and application software, today announced the conclusion of a publishing agreement concerning the title S.T.A.L.K.E.R.: Clear Sky.

S.T.A.L.K.E.R. Clear Sky to be released digitally as steam exclusive
25 January 2008
GSC Game World and Valve announce that S.T.A.L.K.E.R.: Clear Sky will be available for digital download worldwide exclusively on Steam®, a leading online platform for the distribution and management of PC games.
The official prequel to the Survival FPS game S.T.A.L.K.E.R.: Shadow of Chernobyl is currently slated for simultaneous release on Steam and at retail outlets in early 2008.

New Year wishes from developers team
31 December 2007
The S.T.A.L.K.E.R. development team wishes you all Merry Christmas and a Happy New Year. We hope the New Year will bring you many interesting events, new friends, positive emotions, and achievements that will improve your life.

Merry Christmas and a happy New Year!
24 December 2007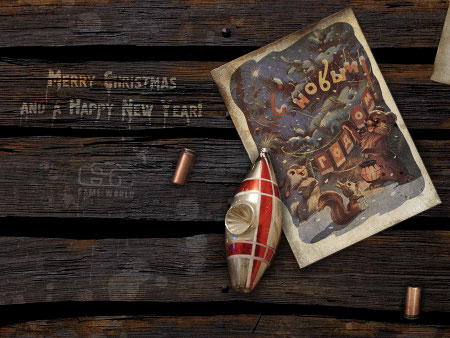 Fansites support program
14 November 2007
We are very happy to announce renewal of our support of fan sites of the game S.T.A.L.K.E.R. Every month fansites will get from us a themed calendar and several themed screenshots of S.T.A.L.K.E.R.: Clear Sky.
Also, every month, up to the 20th, we will gather 5 questions from each fansite, collected by the site's team. The developers will pick five favourites and give them expanded answers. The site with the most interesting question will get an exclusive material.
Waiting for your letters at atem@gsc-game.kiev.ua. Write "Fansite Q&A" in the subject line, and do not forget to say which site the questions are coming from.

S.T.A.L.K.E.R.-inspired flash game
18 October 2007
Any volunteer is encouraged to immerse into a flash-based universe of s.t.a.l.k.e.r. Zone located at tymchenko.jrhdata.de web-site.
S.t.a.l.k.e.r.s can communicate in one of the three languages available: English, German and Russian. A quite involving and atmospheric interpretation of the game you already know so well.